European stock markets have moved a little higher, in what's turning into a rather uneventful session.
The major bourses are all positive, with Switzerland, Italy and Spain all leading the way.

Photograph: Refinitiv
Rupert Thompson, head of research at Kingswood, reckons the markets need a new catalyst, following decent gains in recent months.
The sharp rebound in equities seen this year is beginning to look a little tired and markets were little changed amidst a downbeat set of forecasts from the IMF. While the IMF cuts its global growth forecast for 2019 and warned of downside risks, it is still projecting but with little conviction some recovery in growth 2020 – the infamous two-handed economist lives on.

"Trade remains a major focus for markets and the US-China negotiations appear albeit rather tortuously to continue to move in the right direction. An 'awesome' deal – well, that's certainly how the US will describe it – is still looking on the cards for next month. However, just as frictions with China are diminishing, trade tensions between the US and EU are increasing. Both the US and EU have threatened to impose tariffs on each other in response to past subsidies to Airbus and Boeing. And the US still has to decide whether to go ahead with tariffs on auto imports on national security grounds of all things. Meanwhile, the minutes from the latest Fed meeting confirmed the Fed is very much on pause. With inflation running at close to target and growth slowing but not collapsing, there seems every reason for the Fed to sit on its hands for some time yet.
Investors have also been cheered by new credit data, released last Friday, showing a spike in lending in China last month.
That suggests Beijing has dropped its plans to deleverage its economy, and are again trying to spur growth by pumping up demand.
The plan may be working – China's factories posted stronger growth than expected in March
Marc-André Fongern of MAF Global Forex says recent Chinese data illustrates that monetary policy is working.
Despite a mixed bag of data, one could argue, China's stimulus is going to support growth on a medium-term horizon. Tax cuts for example, will take some time to implement a brighter picture of China's economy. Adding to that, positive, official comments around the trade-war are supportive as well for the mood of investors.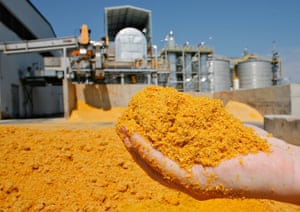 Distillers Dried Grains, DDG, which is a byproduct of the alcohol process at the Commonwealth Agri-Energy Ethanol plant in Hopkinsville, KY. Photograph: Bloomberg/Bloomberg via Getty Images
In another sign that relations between Washington and Beijing are improving, China has decided to start a review of anti-dumping measures on U.S. distillers grains [DDGs].
These measures impose a hefty tariff, around 33%, on imports of American DDGs. They're a by-product of distilling — either to produce alcoholic beverages, or from ethanol plants, and can be sold as animal feed.
China slapped tariffs on DDGS on 2016, claiming they were being sold unfairly cheaply in the Chinese market. That move drove down imports sharply.
Now, though, the Chinese ministry of commerce says it will review whether anti-dumping measures are still needed. That's potentially good news for US ethanol producers…. though they might have to wait until the broader trade war has been resolved….
In other trade news, European countries have agreed to start formal talks with the US — in the face of French resistance.
The Commission, which coordinates trade policy for the 28-member European Union, hopes to reach a deal to cut tariffs on industrial goods, and to make it easier to show products meet EU or U.S. standards.
EU ministers approved the plan, with industrial heavyweights such as Germany keen to lower tariffs on their goods.
Hans von der Burchard (@vonderburchard)

BREAKING: EU ministers just approved negotiating directives for EU-U.S. #trade talks, covering tariff elimination for industrial goods + fishing and conformity assessment for testing and certification of new products. France voted against, Belgium abstained @POLITICOEurope
Paris, though, is concerned that America may demand reforms to agricultural levies – which might threaten French farmers.The European Union says agriculture won't be up for discussion, while the United States insists it must be included.
France also wants climate change issues to be considered – a red line for the US.
As a French spokesperson put it:
"It is a question of values: Europe must be exemplary and firm in its protection of climate".
So there's no certainty that the talks will get very far….
David Madden, market analyst at CMC Markets UK, sums up the first few hours of the trading week:
European equity markets are subdued this morning on the back of a strong finish on Friday. It seems likes investors are taking a breather, and the lack of volatility in Asia overnight prompted some dealers to sit on their hands this morning.

Steven Mnuchin, US treasury secretary, issued a positive statement about US-China trade talks over the weekend, and he claimed the negotiations are 'close to the final round' ,and that is adding to global feel good factor.
Boom! World stock markets have hit a new six-month high this morning.
Hopes of a resolution in the US-China trade war have sent MSCI's gauge of global stocks up 0.5% to its highest levels since early October.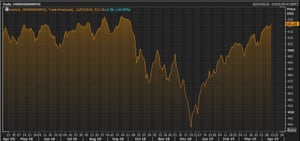 MSCI World stock market index Photograph: Refinitiv
That follows solid gains on Friday, and the rally in Japan today (plus gains in Italy and Spain this morning).
Kit Juckes of Societe Generale points to better-than-expected eurozone manufacturing data released late last week, and a surprise jump in Chinese exports.
He says:
Better Chinese export data on Friday were followed by a rare upside surprise from Eurozone industrial production, and up went global equities, Bund yields and the euro.
SCOFIELD!® (@Scofield_Fx)

Riskier assets benefitted from better-than-expected Chinese trade data and improved sentiment over US-China trade talks. #markets
Yesterday, Donald Trump tore his eyes away from the Masters long enough to launch a fresh blast at the US central bank.
Using his favourite club (Twitter, of course), the president claimed that the US stock market would be much higher if the Federal Reserve has listened to him last year.
Rather than unwinding its stimulus programme by selling bonds, Trump argues, the Fed should have been buying MORE.
Donald J. Trump (@realDonaldTrump)

If the Fed had done its job properly, which it has not, the Stock Market would have been up 5000 to 10,000 additional points, and GDP would have been well over 4% instead of 3%…with almost no inflation. Quantitative tightening was a killer, should have done the exact opposite!
Trump's claim that America needs more quantitative easing is rather controversial — and hardly matches his claim that the economy is doing well on his watch. Perhaps he's getting his excuses in early, in case growth stalls badly this year.
But what about the points claim? Well, the Dow ended last week at 26,412 points – around 500 points shy of last October's all-time high, and up 10% this year. Hardly a shabby performance.
Also, the biggest drag on the markets has been concerns over the global economy — thanks in large part to Trump's trade dispute with China.
As Paul Donovan of UBS puts it:
Over 40% of the Dow Jones industrial average is tech and industrial companies. These sectors suffer from the increasing burden of US trade taxes (which are effectively a tax on equities).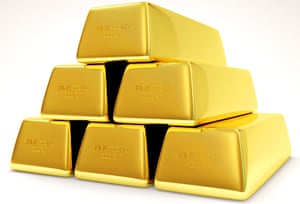 Gold has hit a one-week low this morning, as traders lose interest in safe-haven assets.
Bullion is down 0.3% to $12.86 per ounce, another sign that markets are in risk-on mood.
Margaret Yang, a market analyst with CMC Markets, says:
"Gold prices have fallen because of improving macro-economic data which is favouring risk-taking."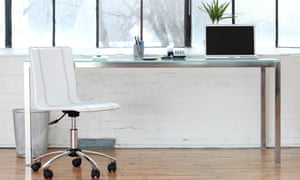 Photograph: Drew Hadley/Getty Images
The office space industry has its critics, who aren't convinced that providing desks, comfy sofas, coffee and (if they're lucky) craft beer to hot-desking workers adds up to a proper business.
But IWG (formerly Regus) has bucked expectations this morning by selling its Japanese operations to TKP Corp for £320m as part of a new "master franchise agreement".
The deal will see IWG sell 130 flexible co-work centres to TKP (Japan's largest provider of conference rooms and banquet halls to rent). TKP also gets to use the Regus, Spaces and OpenOffice brands in Japan under a franchise deal, with IWG providing sales and technology services.
IWG shares have surged 15%, as traders welcome this shift towards more franchising.
European banking stocks have hit their highest level since early October, as trading gets underway.
The Stoxx 600 Europe Banks index has gained almost, lifted by hopes that the US-China trade war could ease – potentially giving global growth a boost.
Across the markets, Spain and Italy's bourses have risen by over 0.5%, but the action in Frankfurt, Paris and London is more muted.

European stock markets, 12 April 2019 Photograph: Refinitiv
Optimism that US firms will report decent results for the last quarter is also boosting markets, says Konstantinos Anthis, Head of Research at ADSS.
JP Morgan got the earnings season off to a strong start on Friday, beating forecasts with record profits and revenues. If Goldman Sachs does the same today, then the markets could be jolted higher.
But perhaps this optimism is overblown, given concerns over the global economy?
Anthis cautions:
The risk on sentiment is the key theme in the markets at the start of the week after a strong close for most instruments on Friday. High beta currencies gained across the board, equities rallied, Treasury yields moved higher and Gold retreated. This a typical risk on environment and it begs the question whether investors are right to be so cheerful. In any case, Easter price action is just around the corner and with the US earnings' season in full swing more volatility is expected to keep market participants on their toes.

An improvement in risk sentiment is what seems to drive investors' appetite at this stage. The Euro, the commodity dollars, the greenback against the Yen, all rallied on Friday. At the same time, Gold moved lower while equities were pushing towards more gains targeting fresh highs for the year. However, what makes sense to mention here is that the only meaningful catalyst behind this move higher was that banks reported better earnings for Q1, which sound too simplistic as a credible market driver. Should we be worried?
In another significant move, Reuters are reporting that Washington has watered down one of its key demands in the trade talks.
US negotiators are, apparently, no longer insisting that China curbs industrial subsidies as part of a deal to remove tariffs on Chinese goods.
Such a climbdown could help the two sides reach a deal (but also irk hawkish US policymakers who want to prevent Beijing tilting the playing fields).
Reuters says:
The issue of industrial subsidies is thorny because they are intertwined with the Chinese government's industrial policy. Beijing grants subsidies and tax breaks to state-owned firms and to sectors seen as strategic for long-term development. Chinese President Xi Jinping has strengthened the state's role in parts of the economy.

In the push to secure a deal in the next month or so, U.S. negotiators have become resigned to securing less than they would like on curbing those subsidies and are focused instead on other areas where they consider demands are more achievable, the sources said.
Vincent Lee (@Rover829)

Reuters Exclusive by @alexalper @ChrisPrentice @michaelvmartina :#US has tempered demands that China curb industrial subsidies as a condition for a trade deal after strong resistance from Beijing, according to two sources briefed on discussionshttps://t.co/7dCSsasASr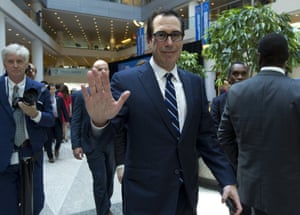 Treasury Secretary Steven Mnuchin at the International Monetary and Financial Committee conference at the World Bank/IMF Spring Meetings in Washington on Saturday, April 13, 2019. Photograph: José Luis Magaña/AP
Good morning, and welcome to our rolling coverage of the world economy, the financial markets, the eurozone and business.
Investors are starting the new week with a spring in their step, on hope that Washington and Beijing are inching towards a resolution in their trade war.
With Brexit on the back burner, City investors are refocusing on the US-China trade talks….and welcoming upbeat comments from Treasury secretary Steven Mnuchin over the weekend.
Mnuchin told reporters in Washington that "we're hopefully getting very close to the final round of these issues," signalling that further face-to-face talks could be imminent.
Perhaps significantly, Mnuchin also that the U.S. is open to facing "repercussions" if it doesn't live up to its commitments in a potential trade deal with China. That could be a sign that the deal being drawn up has teeth.
As Mnuchin put it:
There are certain commitments that the United States is making in this agreement, and there are certain commitments that China is making.

"I would expect that the enforcement mechanism works in both directions, that we expect to honour our commitments, and if we don't, there should be certain repercussions, and the same way in the other direction.
We've been here before, of course — optimism doesn't always translate into concrete action. But both sides are keen to get a deal, especially after last Friday's import and export data showed US trade with China has slumped over 11% this year.
Mnuchin's comments sent shares higher in Asia, with China's Shanghai Composite index up 0.6%.
Japan's Nikkei surged by 1.4%, hitting its highest level since last December.
European markets are expected to post gains today too:
Holger Zschaepitz (@Schuldensuehner)

Global stocks starting unsurprisingly higher to the week on combination of better China data, elevated optimism over US-China trade talk & pos handover from Wall St on Fri. IMF-World Bank spring meetings cautious but constructive. Bonds unchg w/US 10y at 2.55%. Bitcoin at $5.2k. pic.twitter.com/xgvfSEDpXW
Sigma Squawk (@SigmaSquawk)

Risk on sentiment greets European traders this morning as Asian stocks rally on hopes of a US-China trade deal.

US Tres Sec Mnuchin hopes US-China trade talks nearing 'final round'
An agreement would go "way beyond" previous efforts to open China's markets to American firms https://t.co/VKAyQ5ODKO
Also coming up today
Goldman Sachs releases its latest financial results before Wall Street opens; analysts predict that revenue fell 10% year-on-year in the first quarter of 2019.
Plus, the latest Empire manufacturing report will show how factories in New York state are faring this month, and whether trade tensions are hurting.
The agenda
Noon BST (estimate): Goldman Sachs results for Q1 2019
1.30pm BST: The New York Empire State Manufacturing Index released
Back to: Home – UK Business News